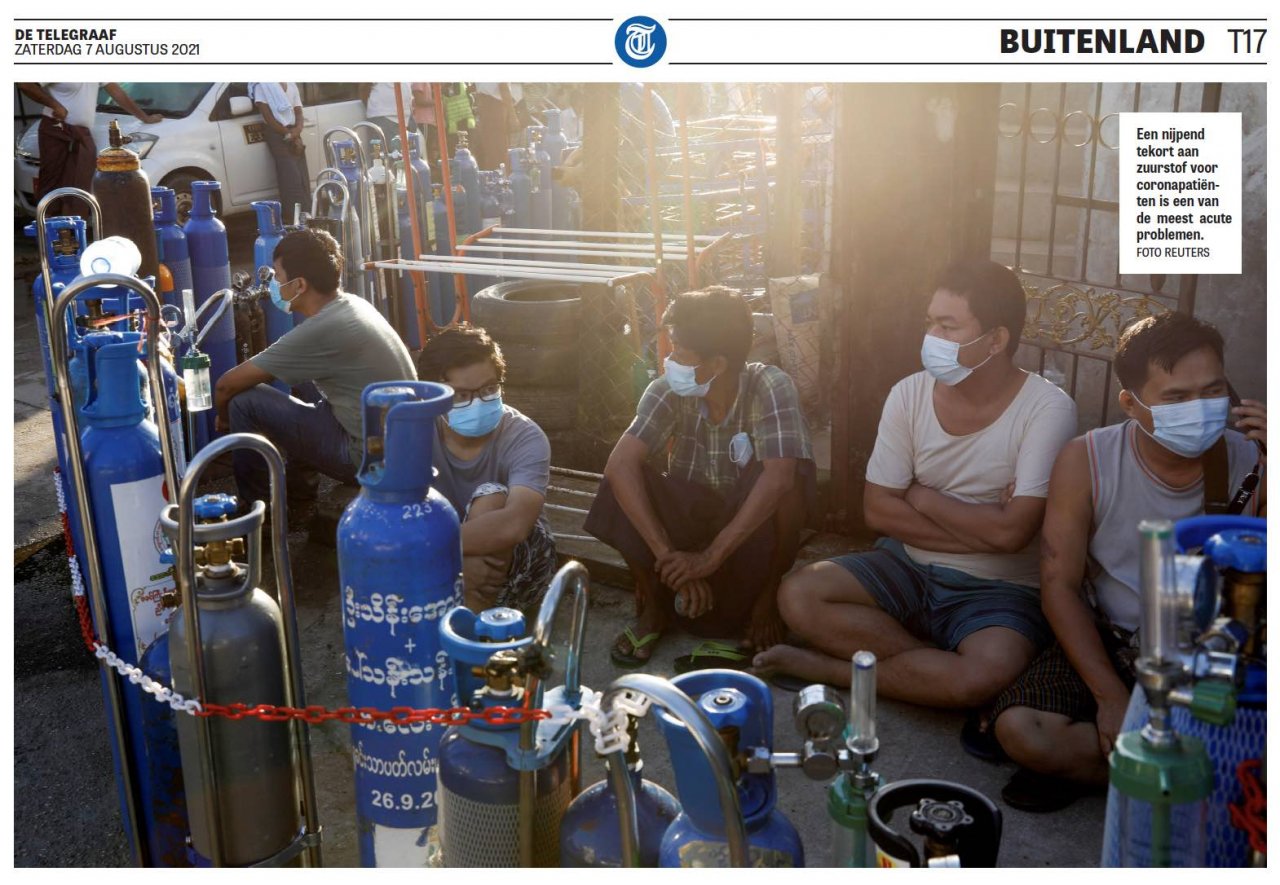 Artikel in de Telegraaf
door Annelie Langerak  BANGKOK  
De deltavariant van het coronavirus slaat genadeloos hard toe in Myanmar en heeft mogelijk al de helft van alle Myanmarezen geïnfecteerd. De Nederlandse arts Frank Smithuis, die in het land werkt, doet een dringende oproep tot hulp.
Nog geen drie procent van de 54 miljoen Myanmarezen is gevaccineerd, er is een schreeuwend tekort aan zuurstof en de gebrekkige gezondheidszorg in het land is niet in staat om het aantal ernstig zieke patiënten te behandelen, deels doordat artsen van overheidsziekenhuizen sinds de staatsgreep in februari weigeren te werken in ziekenhuizen onder het regime. In Yangon, de grootste stad vanhet land, staan mensen massaal in de rij voor zuurstof en crematoria. Volgens lokale media bouwen de autoriteiten er nieuwe crematoria die meer dan 3.000 doden per dag kunnen verbranden.
Frank Smithuis werkt sinds 1994 in Myanmar, voorheen als hoofd van Artsen Zonder Grenzenen nu als directeur van MedicalAction Myanmar (MAM) met eigen klinieken met ruim 900 medewerkers door heel het land. De organisatie heeft op elf plekken behandelcentra voor ernstig zieke coronapatiënten geopend."Ik denk dat dit verreweg de ergste gezondheidscrisis is die het land ooit heeft meegemaakt. Veel mensen bellen of komen naar ons toe en willen dat we hen opnemen, maar we hebben simpelweg niet genoeg capaciteit", vertelt Smithuis."We hebben momenteel 620 zuurstofconcentrators en kunnen daarmee op één moment vijfhonderd mensen behandelen. Gelukkig hadden we in mei al veel ingevoerd. We zagen de storm aankomen, vanwege de situatie in India."
Hels karwei
Het is een hels karwei om de coronacentra draaiende te houden."De mensen die we opvangen, kunnen niet zonder een constante zuurstoftoevoer. Maar als je hier twintig zuurstofmachines op het elektriciteitsnet aansluit, barst het systeem. Dit land heeft sowieso al veel stroomstoringen. We hebben dus sterke generatoren nodig en moesten veel elektriciteitslijnen vervangen. Ik heb nooit eerder elektriciens in dienst gehad,maar nu heb ik er 23 die dagen nacht aanwezig moeten zijn. "Inmiddels zijn ongeveer duizend mensen behandeld, of nog onder behandeling.
Volgens Smithuis is het daarom nog te vroeg om te zeggen hoeveel patiënten precies overleven. "Er gaan veel mensen dood, maar er blijven er gelukkig veel meer leven. "De Nederlander zette in 2002 het eerste HIV/Aids-programmain Myanmar op. Toen kwamen vanuit alle uithoeken mensen met de bus naar zijn klinieken toe. "Maar zelfs tijdens de ramp als gevolg van cycloon Nargis in 2008 was het niet zo lastig werken als nu. "Onder meer de speciale VN-rapporteur voor mensenrechten in Myanmar sloeg alarm dat het land verandert in een 'superverspreider' coronastaat. "Meer besmette mensen betekent meer kans op spontane mutaties. Maar deze variant is afkomstig uit India en verspreidt overal supersnel. En Myanmar is een behoorlijk geïsoleerd land en ik denk niet dat deze zorgen reëel zijn.
"Wanhopig op zoek naar genezing wenden Myanmarezen zich tots ociale media of kwakzalveriji n de hoop een oplossing te vinden. Anderen verspreiden mythes als het inhaleren van lucht van een haardroger om het zuurstofniveau in je lichaam een boost te geven, of drie keer per dag kauwen op een rauwe ui. Smithuis doet een dringende oproep tot assistentie. "Er is veel meer hulp voor behandeling nodig, maar dat moet supersnel gebeuren. Zuurstofmachines zijn het belangrijkste. Daarbij zijn steroïden, middelen om trombose te voorkomen, en antibiotica belangrijk. Voor het opvoeren van vaccinaties is het voor deze golf te laat, maar dat is natuurlijk ook nodig voor de volgende golf.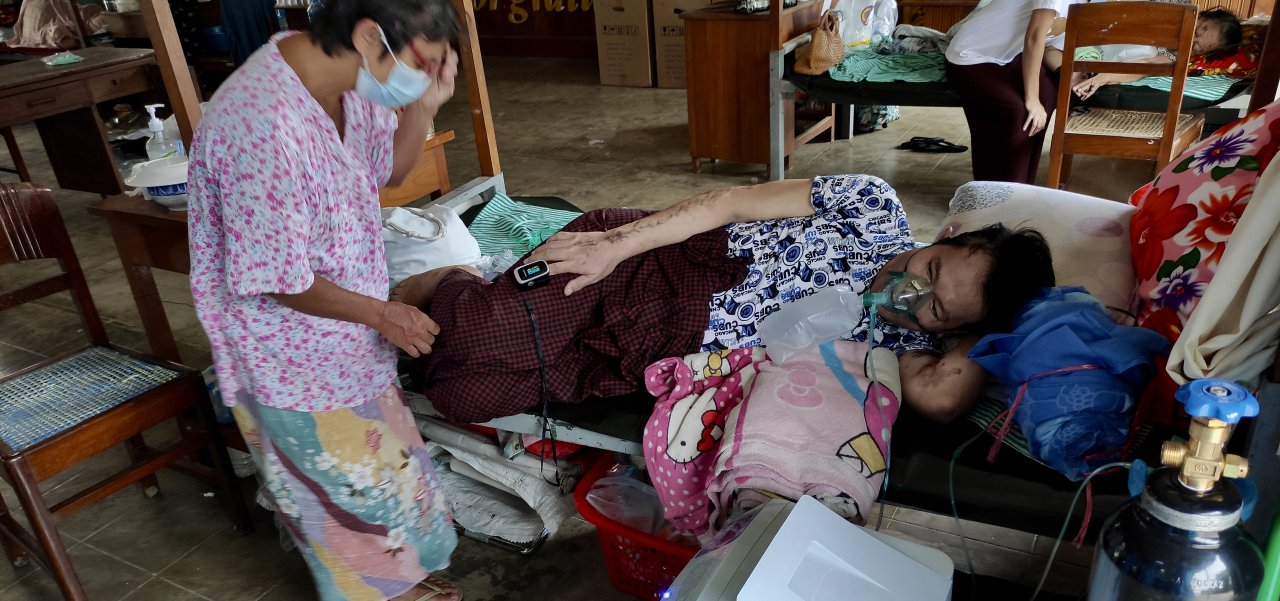 "Onrust"
In tegenstelling tot andere uitbraken van Covid-19 in Azië, wordt de coronacrisis in Myanmar ernstig verhevigd door wijdverbreide politieke onrust en een militair bewind dat er door sommigen van wordt beschuldigd de pandemie te gebruiken om verzet te onderdrukken. Maar Myanmar's machthebbers zoeken meer samenwerking met de internationale gemeenschap om de crisis te beteugelen, schreefde staatskrant Global New Light of Myanmar vorige week. "Het is balanceren als buitenlandse hulpverlener", concludeert Smithuis. "We moeten de politiek uit de gezondheidszorg houden. Het is juist belangrijk om een opening te vinden voor samenwerking om deze crisis te bestrijden."