Medical Action Myanmar is responding to an extremely serious COVID epidemic in Myanmar
Myanmar is in the middle of an extremely serious COVID epidemic. This is probably the worst health care crisis Myanmar has ever faced and possibly one of the fastest COVID waves the world has seen so far. 
Myanmar's population had very low COVID immunity at the start of this wave. The vaccination coverage was below 3%, and the population acquired little natural immunity from earlier waves, which were very small, similar to other countries in the region like Cambodia, Thailand and Vietnam. With very low immunity, the delta variant could spread extremely fast. An additional problem is that medical care has been drawn into the recent political conflict. Due to a strike, many hospitals are not, or only partly, functioning. Any country would have a very serious problem to deal with such a fast outbreak. Due to the weakened health care system, the situation is even worse.
Medical Action Myanmar started to prepare for this outbreak in May 2021, after a rapid increase of COVID cases occurred in neighbouring India. The first admission was on the 3rd of July. Since then we have been seeing a wave of severely ill patients. 
"We support 12 treatment centers for severe COVID patients. We started in Sagaing, on the border with India, and then rapidly expanded to Yangon, Kayin and Kachin". The treatment centers focus on severely ill COVID patients (with oxygen saturation below 90%), who are in urgent need of oxygen and medical treatment.  The centers had long waiting lists and we could only treat part of the patients who wanted to be admitted. Staff had to work 7 days per week and make very long hours.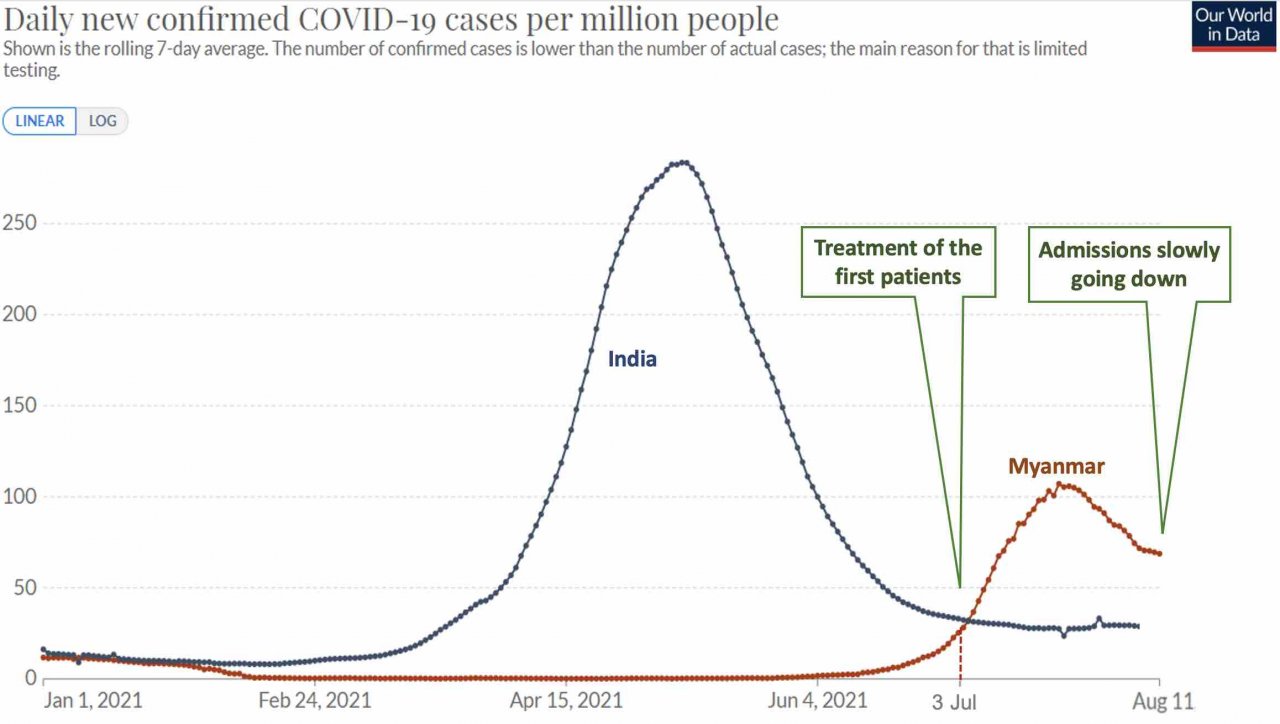 The confirmed COVID cases numbers are not reflecting reality as they are just based on the few people that have been tested. 
But it does give quite a good impression of the speed of the Delta variant outbreaks in Asia. The main outbreaks take about 2-3 months and that is why it is so crucial to react fast. So that is what we are trying to do.